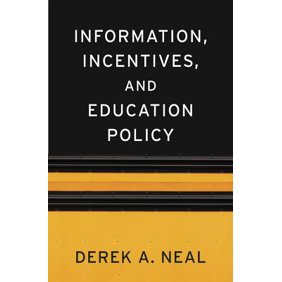 "Policy makers must combine efforts to promote competition among schools with well-designed accountability systems," states Dr. Derek Neal.
This is one of the longer conversations I've had for this podcast as it is economic modeling to better understand the effectiveness of Education Policy is new to me. The conversation is based upon the work that Dr. Derek Neal does in his class through the lessons in his book Information, Incentives, and Education Policy. I enjoy challenging my own beliefs, and in particular enjoyed the second half of the conversation about the combination of Accountability and Choice as the key cornerstones to effective policy.
Bio: Dr. Derek Neal is William C. Norby Professor in Economics in the Kenneth C. Griffin Department of Economics at the University of Chicago.
Dr. Neal studies labor, black-white wage inequality, economics of crime, and education policy. He is the recipient of Llewellyn John and Harriet Manchester Quantrell Award for Excellence in Undergraduate Teaching (2016), a fellow with the Society of Labor Economists (2008), President of the Midwest Economics Association (2009-10), former Co-Editor, Journal of Human Resources, former Editor-in-Chief, Journal of Labor Economics, and former Editor, Journal of Political Economy. He is also the author of Information, Incentives, and Education Policy.